Prole-di-zeno--broadcast-from-planet-garden
From Habitat: Giardino
Prole di Zeno – Broadcasts from Planet Garden
Studio for Immediate Spaces at Habitat, Cà de Monti
Saturday 09.04 – Sunday 17.04.2022
Meeting on the Tramazzo's riverside, Tredozio. Foto: Anastasia Mizeyko
"Prole di Zeno is situated in a rural future scenario in the Romagna toscana's landscape, in a garden that will span the world just as the current urban condition reshapes what has been there before. When in an interplay of droughts and floods a comforting and nourishing environment can't be taken as granted, nature needs to be cared for. Yet the planetary garden in its ubiquitous condition won't be the focus but the context of the artefacts being produced in this workshop referring to peasant Zeno whose practice Superstudio documented as part of their project on "Cultura Materiale Extraurbana". Artefacts – analogue as well as digital, sheets of paper as well as radio waves – will give an idea of a life mediating between the observed and the imaginary, the local and the cosmopolitan, the archaic and hi-tech. The artefacts hint on potential rituals, habits and tools embedded in this new circular, post-fossil, post-orientational, new bucolic lifestyle, yet they won't explain all aspects of that life comprehensively. They will paint an image by an idea of the food being eaten, the music being heard, the discussion being held."
09.04
Transhumance
A Transhumance is a form of pastoralism or nomadism organized around the seasonal droving of livestock along migratory routes*. By nature, it involves shared rituals and practices, such as caring for and breeding animals, managing land, forests and water resources, and dealing with natural hazards. This practice requires adaptation to different environments, weather conditions, and body-run effort. We organised the hike from Tredozio to Cà de Monti for the students from Studio for Immediate Spaces as a walking ritual, a transition between the urban and rural landscape, between hyper-connectivity and isolation, progress and limits. The path has been divided into 4 parts, following the morphological and human-run changes in the environment we walked across. Each part was introduced by a different text, printed on papers that could be found hanging at 4 crossing points along the path, which served as "ruminating" moments, digesting the words proposed through the texts.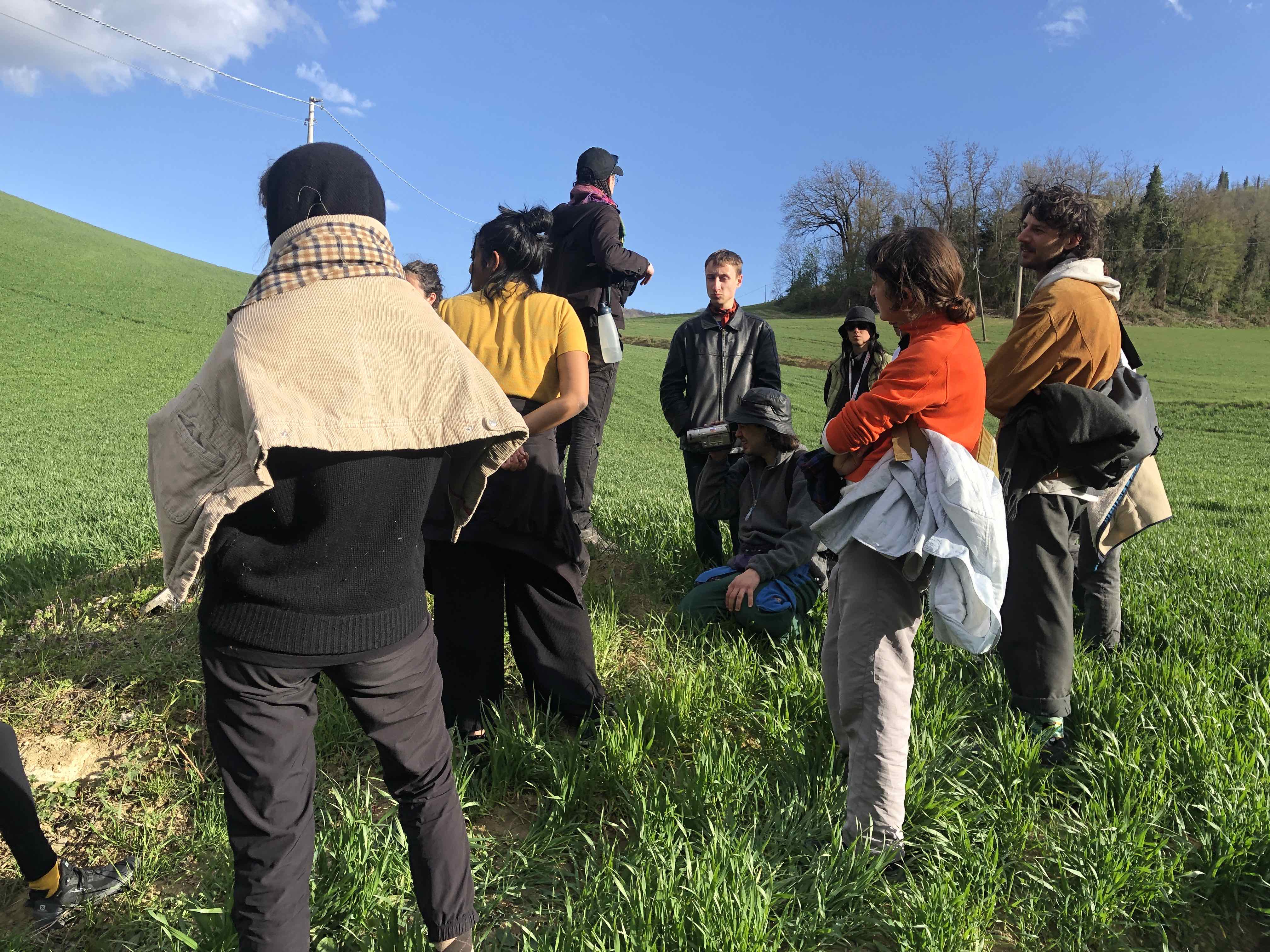 Lecture during the Transhumance. Picture by Matteo Viviani
The Map
Technology
The Border
The Moon rises
10.04
11.04
CAVÉJA DAGLI ANËLL
With Enrico Malatesta
Advancing a theoretical dialogue regarding the cultural implications of Caveja, and why it is important today to redefine a material relationship with a certain energetic knowledge connected to rural work and a part of practical exercises aimed at investigating the relationship between sound and space, and between the movement of the body and the landscape in the act of producing sound.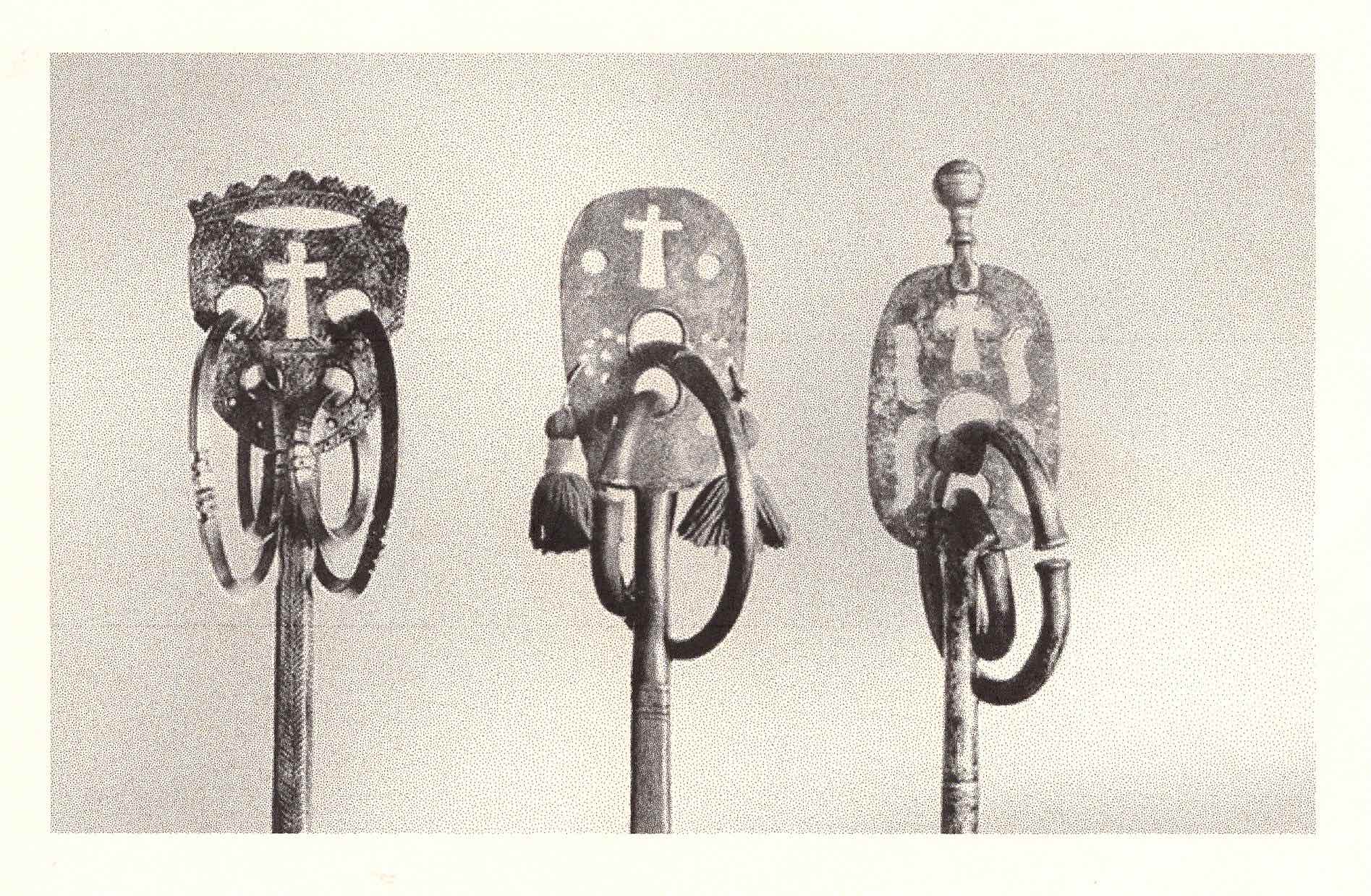 Caveja from the collection exhibited at Museo degli Usi e Costumi della Gente di Romagna, Santarcangelo di Romagna - Rimini. Courtesy: Enrico Malatesta
The Caveja, as well as our Holy Mountain, lacks scientific resources which could document or prove its origin and evolution in time. That's why, on that occasion, we had the chance to think of flexible, imaginative and collaborative archives, which would enhance the intertwining of the different perspectives and experiences encountered, in order to unveil a non-linear, often rambling assemble of thoughts that do not aim to provide static, well-packed information, but rather leave room for imagination.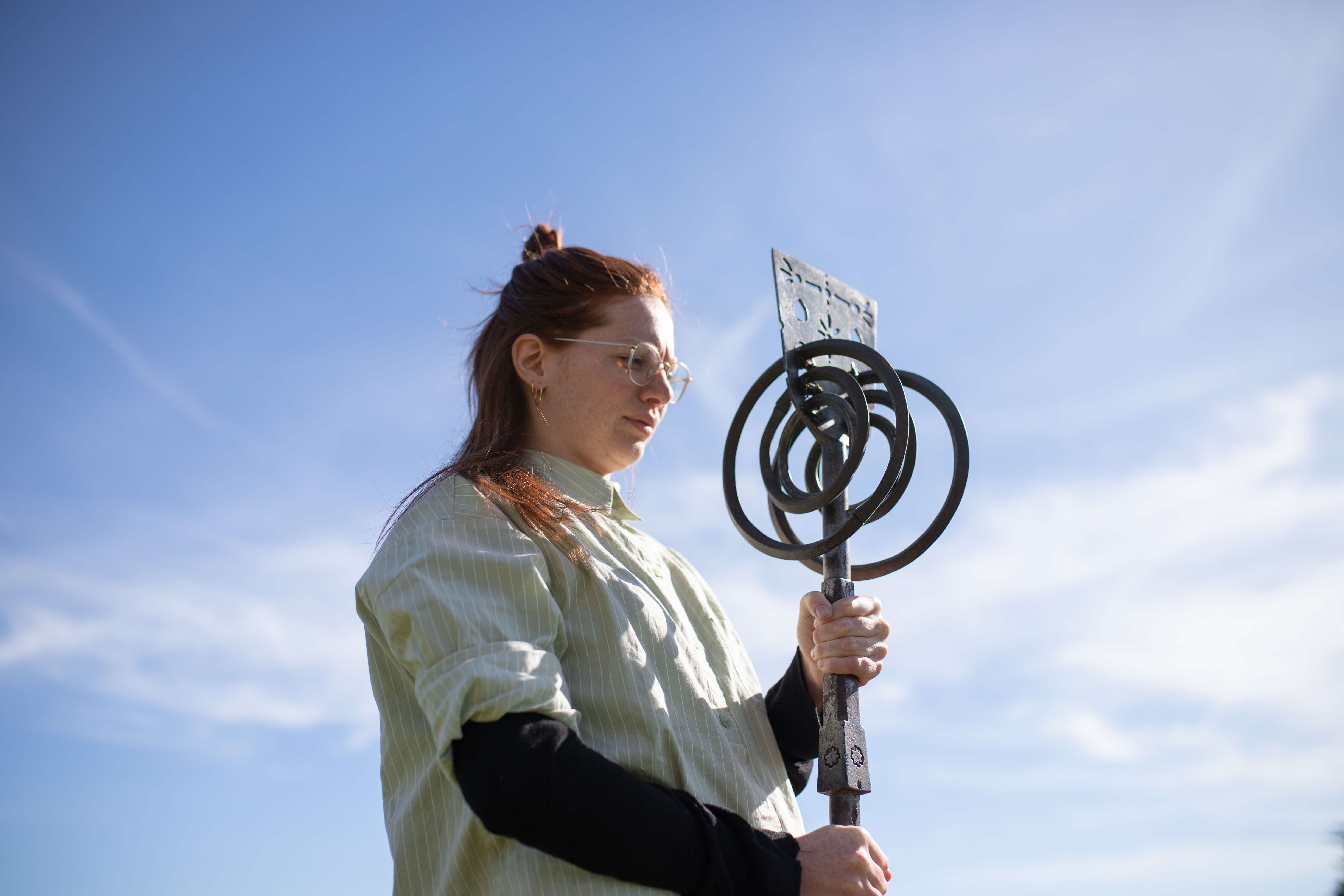 Giugno 2022, Foto: Anastasia Mizeyko
12.04
13.04
Ceremony: Hear the Wind
Tshirts, blankets, towels, socks and a few pairs of panties are lightly hanging on orange threads, connecting the trees between each other while creating a modest, unplanned composition of white surfaces, sometimes moved by the wind. Tonight we have the honour to host the second screening of Ceremony: Hear The Wind Sing, a collective performance organised by Pam, Ilya and Natasha accompanied by a text written by Carla, Ines and Gina, which found in Habitat a perfect place to manifest.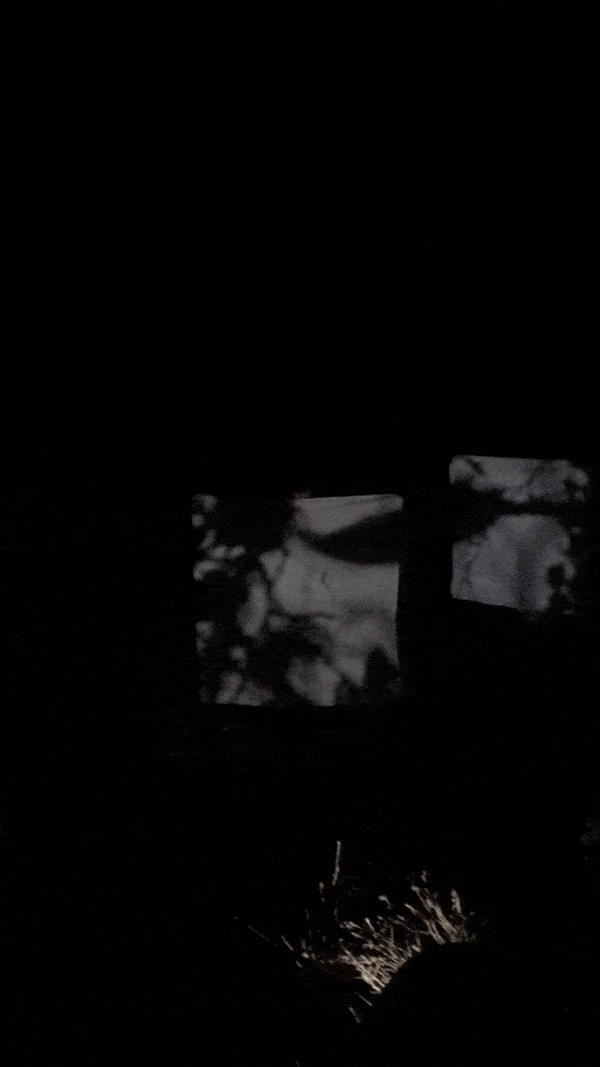 The wind still gently shakes the clothes before the projector turns on. A series of moving images illuminate the set, while a group of people from Cà de Monti descend to the meeting point from which it is possible to experience the show. The site has been wisely identified and prepared for that moment. Some environmental recordings made by Louis accompany the images, while the wind - rising all of a sudden - shakes loudly the clothes and the trees, adding a layer of truth to the speakers-emitted soundscape. The integration between the images and sounds collected, the surfaces on which they are projected or reverberated, together with the natural and architectural conditions of the place are thus mixed, offering a non-repeatable performance because of its contingency.
"Ceremony: Hear the wind sing" is a project aiming to cultivate cross-departmental knowledge-sharing and speculation on new possibilities we can come together for a collective moment of experience through cinema. Behind the rows of hanging clothes, the house emerges as in a high-contrast painting from the encounter of the lunar reflections on its surfaces.
14.04
Ricettario
Collecting Recipes

This recipes book pad was initiated as a result of the one-week dwelling excursion of Master program SIS (Studio for Immediate Spaces, Amsterdam) in Habitat, Tredozio in April 2022.

7 days, 21 collective meals, 24 mouths to feed, and many litres of wine later.

We've cut, tasted, licked, shaped, watered, messed, planned, washed, peeled, burnt, mixed, sifted, played, sang, danced, tarnished, greased, cleaned, and over and over again.

"How do we live(d) together and how can we archive the multiple happenings in meaningful ways?"
Somehow this pad is trying to answer these questions while pretending to work as a COOKBOOK open to future dwellers and inhabitant of Habitat in order to transcript whatever worth to be shared delicatessen.
15.04
16.04
Broadcast from Planet Garden
Public Event and Radio broadcast from Cà de Monti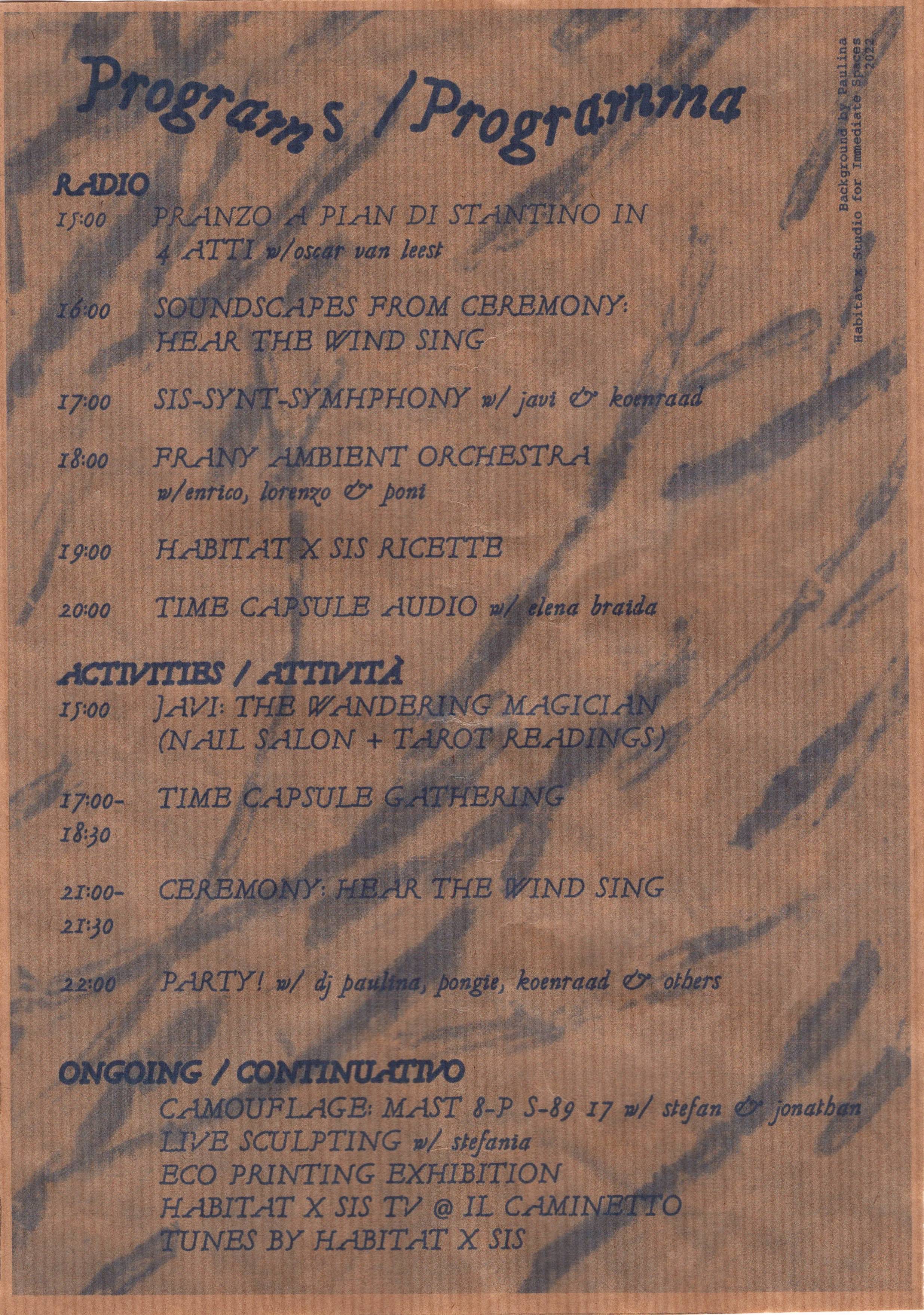 Planet Radio's programme for Saturday 16th April, Cà de Monti.
17.04
MISC
Message from Jonathan:
The carciofi recipe you were asking for: I cut the top, remove the hard leaves, trim the sides and peel the stem, then I took a big pot where I added wild mint and thyme and put the artichokes in with their head facing the bottom of the pan. Then cloves of garlic and cut lemon, salt, some white wine and water so that it covers the bottom of the pan. Then heat it up and put a lid on the pot to let it steam for about one hour. Check from time to time that there's enough liquid in the pot.
Enjoy ♥
Drive
Here the students collected some documentation: Habitat – Sis Drive